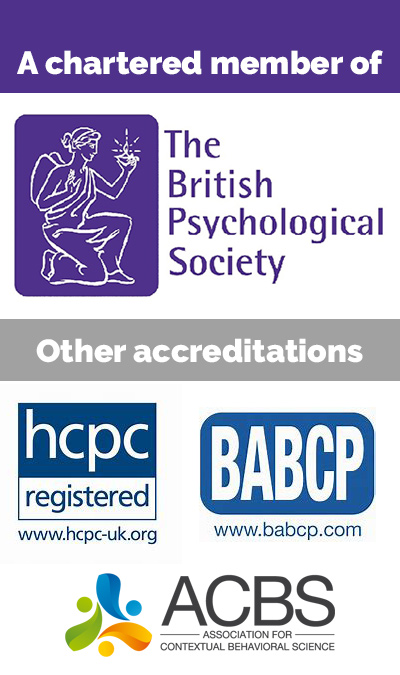 The British Psychological Society
A chartered clinical psychologist (CPsychol) is someone who holds a first degree in psychology, and a master's degree or clinical doctorate, in clinical psychology, and is a member of the British Psychological Society (see www.bps.org.uk) and the Health and Care Professions Council (see www.hcpc-uk.org). He/she has been trained to apply the theoretical ideas of the science of psychology in order to help people with personal or emotional difficulties. Their original programme of studies involves extensive academic and practical training, but they also required to undertake a career-long programme of Continuing Professional Development (CPD) to keep up to date with the latest psychological theories and therapeutic techniques.
The British Psychological Society (BPS) scrutinizes the psychologist's qualifications in order to be able to grant them chartered status. They also monitor the psychologist's record of continuing professional development in order to give them a practising certificate (renewable on an annual basis) – without which the psychologist is unable to continue to practise as a chartered clinical psychologist. The psychologist is also accountable to the British Psychological Society for their conduct – you can see a copy of the British Psychological Society's Code of Ethics on their website). This code is aimed at making the therapeutic environment safe, professional, and confidential.
The Health and Care Professions Council
The Health and Professions Council (HCPC) maintains and publishes a public register of properly qualified members of fifteen health professions. It aims to approve and uphold high standards of education and training and continuing good practice. It will also investigate any complaints, made by a member of the public, against any health professional registered with them.
British Association for Behavioural & Cognitive Psychotherapies
If the psychologist refers to themselves as an Accredited Behavioural and Cognitive Psychotherapist with the British Association for Behavioural and Cognitive Psychotherapies (BABCP) (see www.babcp.com), this means that they have completed sufficient training and supervised practice to competently provide the various forms of Cognitive Behavioural Therapy (CBT)which are now available. The BABCP also has professional guidelines to which therapists are answerable.
Association for Behavioral Contextual Science
The Association for Behavioral Contextual Science (see https://contextualscience.org/) is dedicated to the alleviation of human suffering and the advancement of human well-being through research and practice grounded in contextual behavioral science. The ACBS is an international community of scholars, researchers, educators, practitioners, and others whose mission is to: support a dynamic interaction between basic and applied research; disseminate contextual behavioral science; continue to develop principles, theories, and practical applications grounded in empirical knowledge and guided by the best available scientific evidence; and support all members who wish to participate in this work.